Imagine a world where functional doesn't mean boring, where outstanding becomes the standard and where you are no longer pressed for time. Welcome to the new world of Siemens.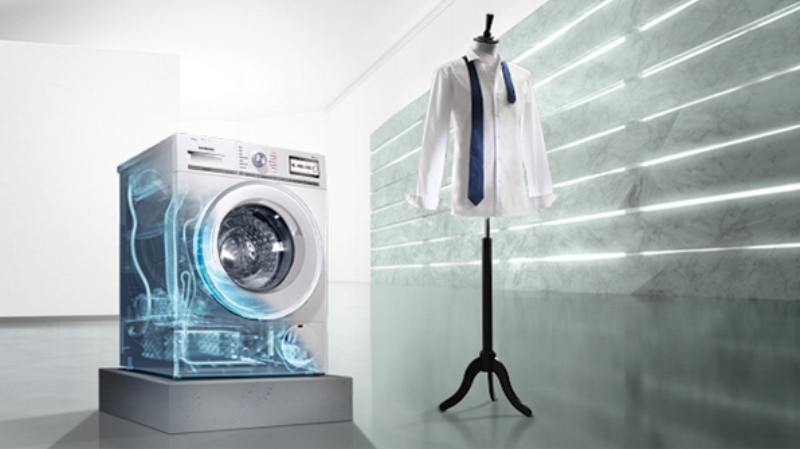 we are proud of our Siemens iQ 5 star status offering exclusive Siemens appliances and promotions.
Siemens offer a range of different appliances to suit your lifestyle.
SIEMENS - THE FUTURE MOVING ON
COOKING
- variospeed
Twice as fast in combination, an integrated microwave function with a conventional cooking option, speeding up preparation of your cooking, saving 50% of your time. Steam cooking is very low fat while retaining vitamins in the food. Ovens that clean themselves thoroughly with activeClean by heating up to very high temperatures.
HOBS
- activeClean
Enjoy preparing food without worrying about the consequences. No matter how creative it gets in the oven interior, you no longer need any chemical treatments to get it clean again – only the push of a button. Hassle-free, the oven cleans itself thoroughly with activeClean. It does so by heating up to very high temperatures – turning all residues in to ash, which can easily be wiped away. This process is called pyrolysis and is the most convenient and efficient way to clean the whole interior of your oven.
A hob that fits in with your lifestyle, flexInduction is no-compromise cooking at its best. Siemens flexInduction hobs are a must for diverse cooking. The cooking area can be tailored to your needs, enabling you to use a small area as traditional induction hobs with four or five separate zones, for boiling rice, for example, or you can choose to link the zones together to form one zone for larger cooking pans.
DISHWASHERS, FRIDGES, FREEZERS, WASHING MACHINES & COFFEE MACHINES
The new extended cooking surface can accommodate pans of any size, even several pans placed anywhere on the surface at the same time. With all the advantages of induction cooking, flexInduction also includes boost settings, automatic pan recognition and touchSlider controls
- noFrost
Who has time to defrost the freezer? Those with a Siemens noFrost freezer do, because there simply is no need to. Using an air circulation system to remove humidity and stop frost and ice building up on the freezer walls and packaging your freezer will look after itself. No longer will you have to run-down your freezer to defrost and remove the ice build-up. Hassle free, you can enjoy fresher food, no more soggy packaging and a frost free freezer for life.
HyperFresh
Reduce food wastage and take control of what you eat and when with hyperFresh. By providing the ideal environment, the hyperFresh storage system keeps your food fresh for as long as it needs to – and even longer – so you can enjoy your food whatever comes up in your life. hyperFresh. Enjoy freshness longer.
- lowFrost
For those models that come with lowFrost, life is still made easier. lowFrost reduces the build-up of frost by up to 50%, meaning that you don't need to defrost the freezer as often, only once every 18 months to 2 years. Designed to save you time and provide added convenience, you can spend your time on the things you enjoy, not defrosting your freezer. With noFrost technology you'll never have the job of defrosting the freezer again.
HOODS
The Siemens hood range is equipped with the energy-saving, powerful yet quiet and durable iQDrive motor, capable of handling smoke and grease in the most challenging cooking situations. Specially designed to last longer, the motor comes with a 10-year motor guarantee and a 5-year parts and labour guarantee.
DISHWASHERS
Useable on any surface of any colour, the innovative timeLight projects the remaining time of the dishwasher cycle on to the floor. With quiet dishwashers, this solution lets you know the dishwasher is running at a glance, so you can avoid opening the door mid cycle. The equally innovative infoLight also projects a dot of light onto the floor to show the dishwasher is running.
LAUNDRY
Built-in to a modern kitchen or utility room, Siemens washing machines and washer dryers not only look great, they perform too. With state-of-the-art technology they are extremely energy efficient, easy to use and save time and money. From the sophisticated sensor technology and cutting edge engineering, to the carefully designed range of programmes and options offered our built-in laundry appliances are designed, from the ground up to help manage the range and complexity of modern textiles, quietly behind closed doors.